If you trade on a live MT4 (MetaTrader 4) account with another broker, you can link it to Darwinex and have access to a comprehensive analysis of your trading strategy.
To be able to link your account you don't need to change broker.
Nevertheless, the following requirement must be met:
Your broker allows access to the account's full trading history.
The MT4 account is in one of the 3 currencies offered by Darwinex (EUR, USD, GBP).
At least 50% of the trades last more than 10 minutes.
At least 95% of the trades are made on assets offered by Darwinex.
At least 95% of the account's total return is made on assets offered by Darwinex.
How to link an MT4 account
Go to the "Link your MT4 account" page and follow these steps to link your MT4 account.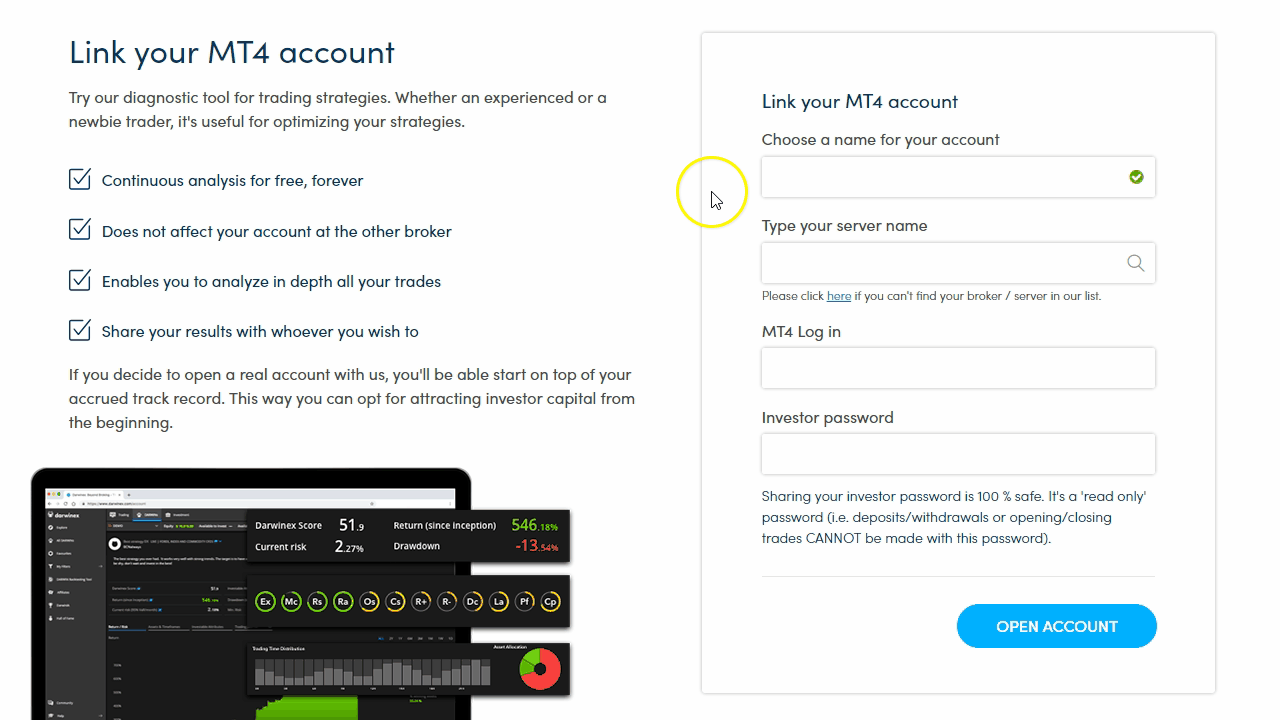 The first analysis can take between 24-48 hours and you will be notified when it has been completed. Later, the analysis will update once a day.
Want to know more?
Analysis. You will be able to thoroughly analyse your trades and share your results with whoever you like. Your linked account will be analyzed in exactly the same way as a live Darwinex trading account.
Changes to the investor password. If you change the investor password of your linked MT4 account, our algorithms will stop analysing this account. You will need to update the password so we can carry on analysing your account.
No DARWIN. Only accounts trading with Darwinex can be used to create a DARWIN and thus participate in the DarwinIA trading contest and opt for managing investor capital. If you wish to create a DARWIN, you can migrate your linked account's track record into a live Darwinex MT4 account.