Opening positions in a currency other than your base currency

In order to open trades in any asset in IBKR -either with TWS or the Client Portal- it is necessary to have sufficient funds in the same currency of the asset in which you want to trade.

Example: should you wanted to purchase 100 shares of Apple (AAPL), which is denominated in USD, and the price per share were 150 USD, you'd need to have 15,000 USD in your IBKR account to be able to carry out the trade. In case you didn't have enough USD, you'd need to convert to USD before executing the trade.
This can be achieved in two ways.
By previously converting from another currency available in the account. In this case, the trader assumes a currency risk on the total amount converted.
By borrowing from Darwinex - similar to MetaTrader -, for which Darwinex will charge a daily interest . In this case, it would be a very similar operation to that of Metatrader, except for the client will pay interest on the money borrowed only, and not on the total amount of the operation.
Closing positions in a currency other than your base currency


If you decide to borrow from Darwinex, it is important to know that when you close the trade in a currency other than your base currency, the borrowed capital is not automatically converted into your base currency.
Request withdrawal from IBKR to your Darwinex Wallet in a different currency than your base currency
Should you request a withdrawal from your IBKR account to your Darwinex Wallet, and as long as you have funds in currencies different from your base currency, your available balance to withdraw may vary as a result of the ups and downs of the exchange rate between all the currencies involved.
For that reason, we always recommend converting all your funds to your base currency prior to requesting a withdrawal.

Otherwise, it is possible that either the withdrawal may not be processed, or that the amount to be withdrawn may differ from the requested amount as a result of the variation in the exchange rate between currencies.
Conversion to your base currency prior to your withdrawal request
Go to the Client Portal home site and click on the "More" button: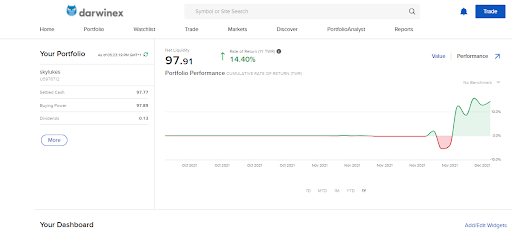 Then, and depending on your base currency (in this example the base currency is EUR), you would have to click on the button "Convert all to EUR".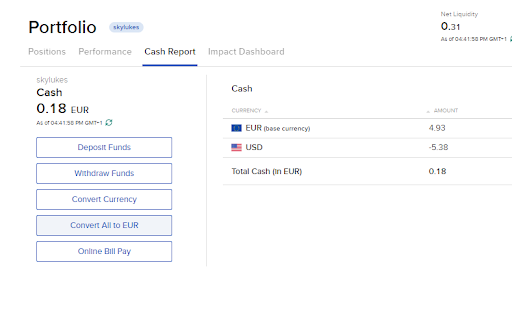 Click on "account / account window".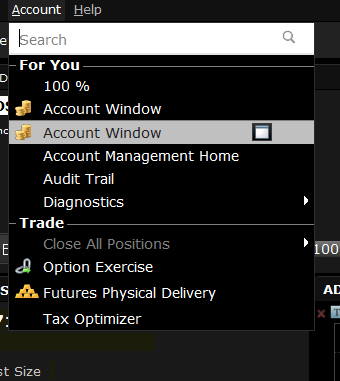 Then place the mouse pointer over the "Market value - Real FX Balance" section, right-click and select the option "Close all non-base currency balances".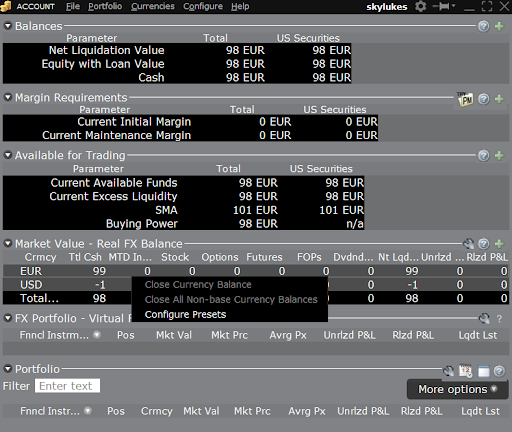 Know more