Learn what you need to do to list your own DARWIN on the DARWIN Exchange.
No need to be a regulated asset manager
DARWIN Providers do not manage investors' capital themselves. They provide the "what and when to buy/sell" to Darwinex in exchange for a 15% performance fee on profits generated for investors, whereas Darwinex decides "how much to buy/sell".
DARWINs are thus managed by Darwinex, an asset manager regulated by the Financial Conduct Authority of the United Kingdom.
Why you need to trade live and with Darwinex in order to list a DARWIN
Live vs. demo trading when it comes to listing a DARWIN
A DARWIN is an investable asset based on a trading strategy run on a live Darwinex Metatrader account. You need to own a live Darwinex MT4 or MT5 account in order to be able to create a DARWIN.
Demo Metatrader accounts are not eligible for DARWIN creation. On the one hand, demo accounts do not experience slippage like real accounts do. On the other hand, the trader does not risk his or her own capital when trading on a demo account. It would not be fair to ask investors to risk their capital on a strategy on which the trader does not risk his or her own capital.
Why trade with Darwinex
Here's why it's necessary to trade with Darwinex as your broker in order to list a DARWIN.
Trading with Darwinex reduces latency between the execution of the trader's trades and the execution of investors' trades replicating the trader. Having to receive trade information from other brokers' servers, latency and thus investor divergence, would be higher.
Depending on other brokers for passing us trade information would create a dependency on third parties which would make our product less robust and more fragile.
Finally, only if traders trade with us can we guarantee that their intellectual property is protected.
Two ways to own a live Darwinex Metatrader account
Opening a new live MT4 or MT5 account with us and start trading from scratch
Importing live trading history from an existing MT4 account you hold with another broker into a live Darwinex MT4 account. Linked accounts are not eligible for DARWIN creation. Your linked account must be imported first into a Darwinex MT4 account in order to become eligible. It is not possible to link and/or migrate live MT5 accounts.
DARWIN creation criteria
Once you have a live Darwinex MT4/MT5 account and trade assets eligible for DARWIN creation, this account must then meet the following criteria for a DARWIN to be created on top of it.
Experience level of the strategy is at least 0.6 D-Periods. When the Experience is below this threshold, you'll be shown the % of progress needed to reach it.
At least 31 days have passed between the account's first trade and its most recent trade.
More than 50% of the trades on the account have a duration of at least 10 minutes.
DARWIN creation process
Once your account meets the requirements to create DARWIN, the "Create DARWIN" button will appear on the upper right corner of the strategy's analysis page: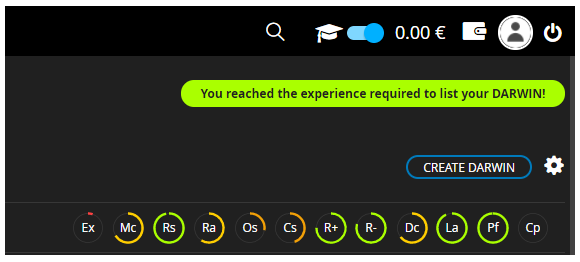 Then, a window will open to select your preferred "ticker" for your new DARWIN: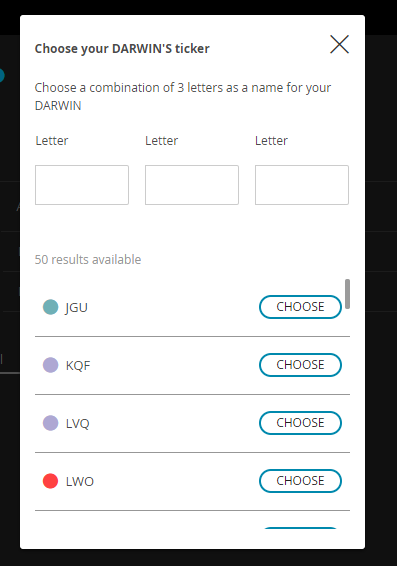 After this, your DARWIN will not get created immediately.
The DARWIN will get calculated over the following weekend, when the market is closed, and approved by Darwinex staff by Monday-Tuesday after that weekend. When this happens, you'll receive an email notification.
If your trading account's history includes trades in the SPA35 CFD, while past trades will get included into the DARWIN calculation, that asset will get disabled in the moment of DARWIN creation as it cannot be replicated yet for investors.
Once your DARWIN gets listed, it is all set up to receive investment from Darwinex investors. Your DARWIN will also automatically participate in the monthly DarwinIA capital allocation.