This article guides you on the process of vinculating between your IBKR trading with Darwinex so that you can take out the best of both worlds
What are the advantages of vinculating my account?
By vinculating your current IBKR account to Darwinex you will be able to keep trading at IBKR and, at the same time, create your DARWIN, participate in DarwinIA SILVER and attract investors to earn 15% performance fees based on the return achieved with the capital under management.

You will maintain your access to IBKR unchanged, same fee structure and same trading platforms.
What assets can I trade?
Once vinculated, you can trade the same assets initially. However, if you want to create a DARWIN to earn performance fees based on your DARWIN's performance, you will need to choose between the 2 DARWIN type of accounts, and trade the list of futures and US stocks & ETFs available.
What are the steps?
1. You can request to move your account here. It will be needed to request at IBKR to link your IBKR account to Darwinex. To do so, please access your IBKR account and go to the "Settings > Account Settings > Trading > Link Account to Advisor/Broker/Administrator > Link my Existing Account to an Advisor/Broker" section, and fill out the form, with the Account ID and Account title that you will see in this section.

2. Once you have made the previous request at your IBKR account, please send us an email to info@darwinex.com with the username of your Darwinex account and the username of your IBKR account, so that we can identify to which Darwinex user is associated the new account linked to Darwinex from IBKR side.
The linking process from IBKR to Darwinex is executed every week on Fridays and we will need your both accounts information (step 2) to associate your IBKR account to your Darwinex account.
3. Once completed the previous steps, your IBKR will be vinculated to your Darwinex account in few days. At this point, the account will be set as a Classic account, which means you will still be able to trade any asset at IBKR, but the analysis of your strategy will not be available and no possibility to create the DARWIN nor manage funds from investors.
Should you want to create a DARWIN, please send us an email to info@darwinex.com with your account details so that we can make an analysis of your track-record*.
The analysis of the track-record is made by taking into account the results of the trades in assets that our system can replicate on the DARWIN, and excluding the rest of the trades's results.
* We plan to automate this process in the future.
It may take a few days from our side to make the corresponding adjustments to analyze the track-record.
4. When your track-record has been analyzed, if you want to create the DARWIN, you will need to request it from your account directly: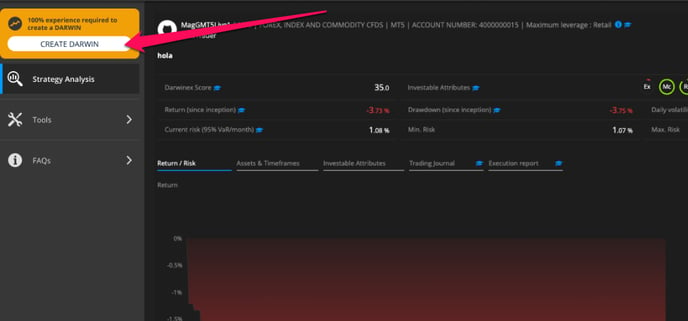 At this point, if you haven't completed the registration process at Darwinex, it will be requested to complete the request of the DARWIN creation. If you already have completed it, you will be able to request the DARWIN creation, selecting the type of DARWIN account you want, which would be processed the following weekend.
Other relevant aspects to consider
You will not be able to move your account if either y

our account is already linked to another Broker or if t

here is some incompatibility between the trading permissions or commission structure of your account and ours.

Note that as our system can only analyze your trades in a range of assets, the performance may be different from the overall IBKR track-record.

There is no limit of accounts you can move to your Darwinex account. If you have more than one IBKR account, you're more than free to move all of them to Darwinex. However, we can only move one account at a time, it's not possible to move several accounts simultaneously.

No need to deposit funds into Darwinex, just keep trading as usual from your IBKR account and earn performance fees at Darwinex based on your DARWIN.