One of the main advantages of the DARWIN asset is that it's are 100% liquid. This means they can be bought and sold at any time, except for a few circumstances.
100% liquid asset
One of the clear advantages of DARWINs is the fact that they are 100% liquid assets. This means they can be bought and sold at any time, except under a few circumstances, which we will explain in more detail in this article.
How to buy a DARWIN?
These are the 4 steps you have to follow to buy a DARWIN.
Step 1
Go to the DARWIN's profile page and click on "TRADE".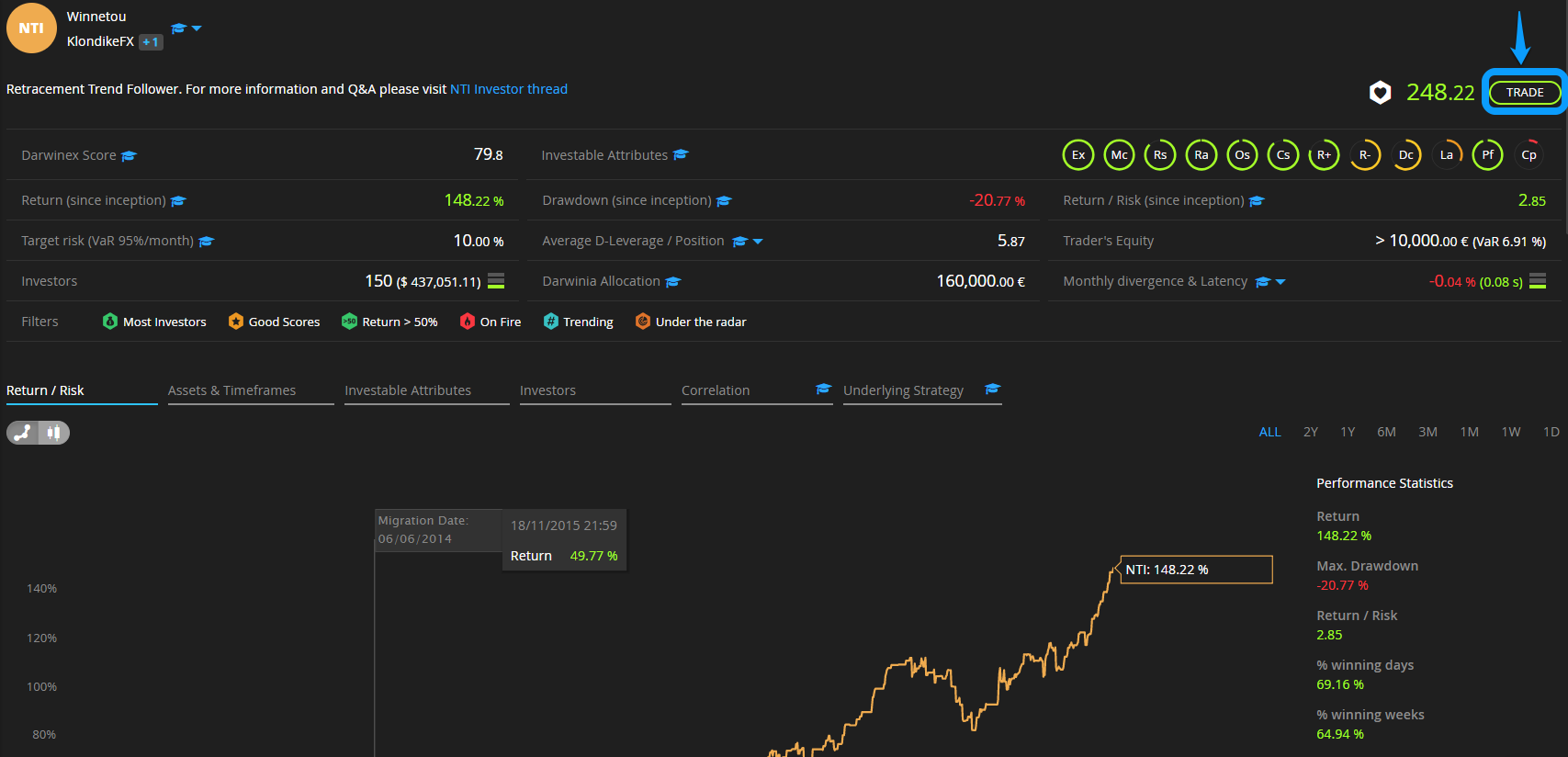 Step 2
Enter the amount you want to invest (minimum 200 EUR/USD/GBP).
Please, take into account that it is advisable to diversify your investment in a portfolio made of various uncorrelated DARWINs.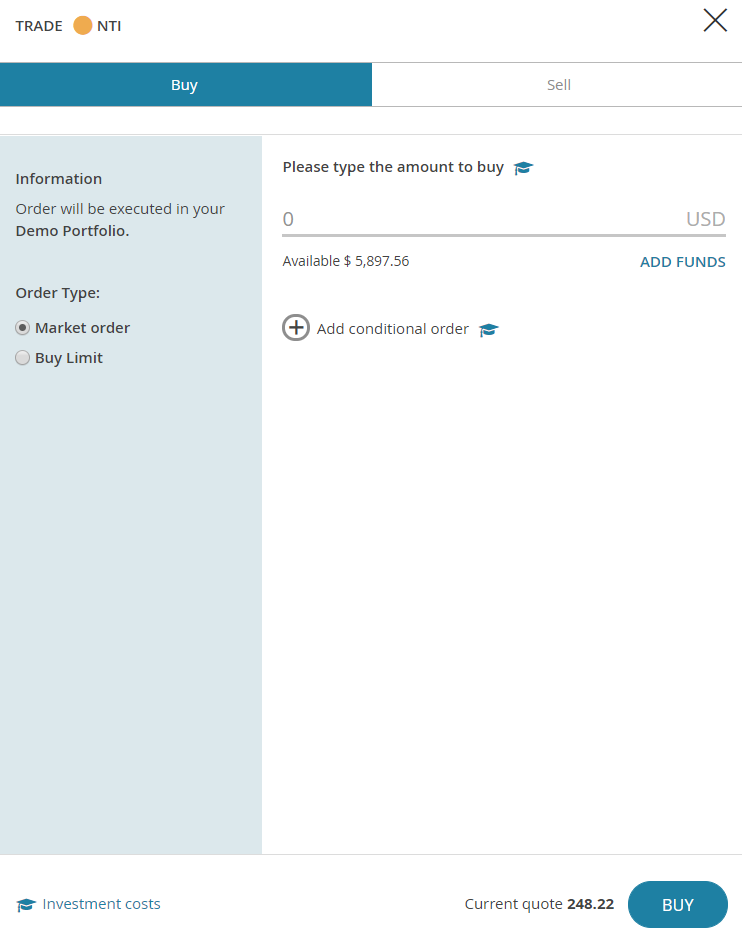 Step 3
Once step 2 is over, a pop-up window, like the one shown in the picture below, will appear on your screen, with all the details of your investment.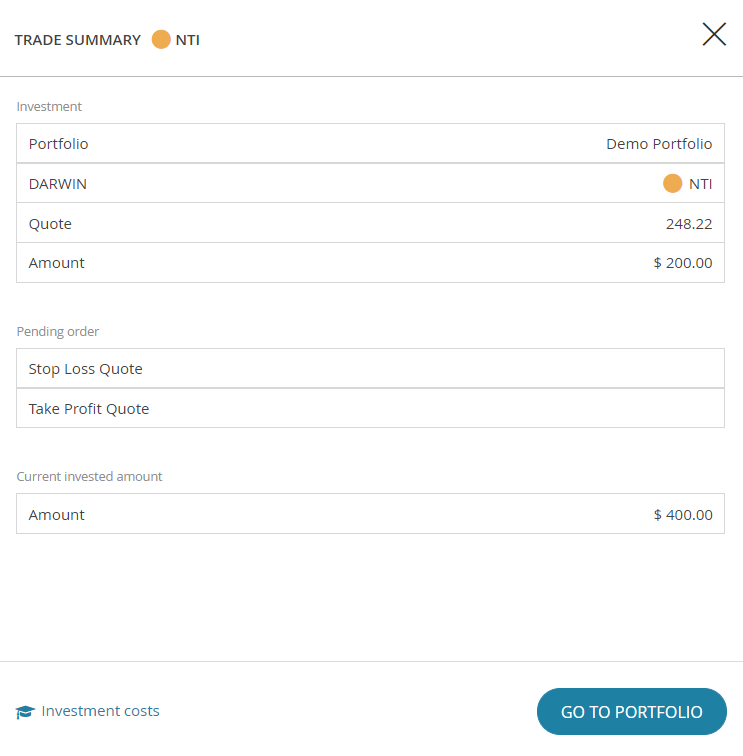 Step 4
The DARWIN is now part of your portfolio.
You can follow its progress, sell it, add a Stop Loss / Take Profit, or invest more capital by clicking on the button "TRADE".
Remember that if you are already investing in a DARWIN, the minimum capital required to increase the investment is just 25 EUR/USD/GBP.

When can you buy and sell DARWINs?
A DARWIN is a 100% liquid financial asset and can be bought and sold instantly, except during:
Market closure. If the DARWIN trades assets that are listed on a market that is temporally closed, whether it be for a bank holiday, a weekend, or between the hours of 17:10 and 18:00 (NY time), these DARWIN won't be bought or sold until the market has reopened again.
Market rollover. As a means to protect our investors, and due to the noticeable decrease in liquidity in the market, between 16:59 and 17:05 (NY time) the Darwinex market will remain closed.
The only exception will be Friday night when the market will close at 16:55 instead of 16:59 (NY time).
It is useful to know that
The minimum amount required to invest in a DARWIN is 200 units of your Wallet's base currency (EUR, USD, or GBP), and in increments of 25 for subsequent investments or partial closures.
The maximum amount to invest in a DARWIN is 100,000 units of your Wallet's base currency. Get in touch with us if you wish to make an investment above this amount so we can review your case.
If you have made various investments in the same DARWIN and you wish to partially close some investments in such DARWIN, Darwinex will apply the FIFO rule (First In, First Out). In other words, the oldest investment will be the first one to be closed, and then the next investments based on the investment date of the DARWIN.
The profits generated with a DARWIN will be automatically reinvested.