The migration process enables you to import the trading history you have built up in a live MT4 account with another broker, allowing you to create a DARWIN and participate in DarwinIA.
You'll be able to:
Participate in the DarwinIA trading challenge.
Prior to migrating the trading history you have built up with another broker, you need to link your live MT4 account from your current broker.
If you have already linked your live MT4 account and you want to migrate your trading history, you just need to:
Click on "Trading" - ''Trading Accounts''.
Click on ''Linked Accounts''.
Select the account you have previously linked.
Follow the next 3 steps: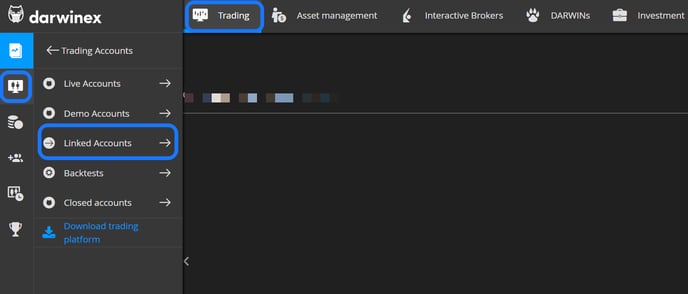 Step 1 - Fill in your personal details
This is only necessary if you haven't applied for a Darwinex account yet.
Step 2 - Request the migration of your linked account
Schedule the importing of your linked MT4 trading account's history into a Darwinex MT4 account.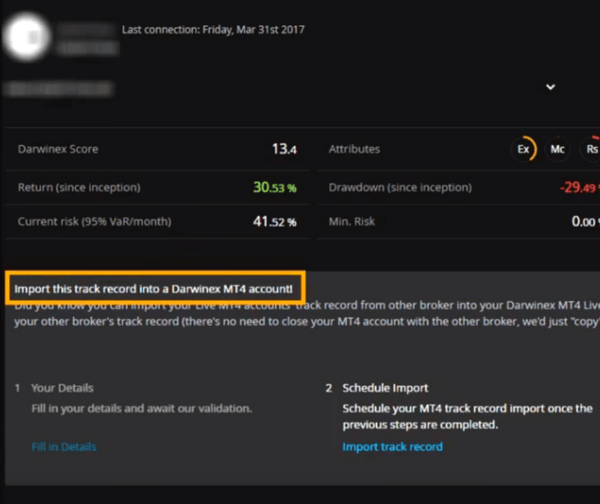 The linked account's currency should be the same as your wallet's base currency. If not, please send us an email to info@darwinex.com.
Darwinex will automatically create a live MT4 account where the full trading history will be imported.
It is very important that you do not open any trades on this account until you receive an email notifying the successful completion of the migration process.
The migration will take place over the weekend when markets are closed.
Step 3 - Deposit funds
To start trading from the Darwinex MT4 account to which your track record has been imported, you'll need to add funds to your wallet and transfer them to your Darwinex MT4 account.
Do you want to learn more?
Important factors to bear in mind regarding the migration of your account:
Different balances. Darwinex will take into account should the balance of your new Darwinex account is different from the one at your original broker.
However, we do recommend that you use a similar level of nominal leverage in your new account in order to avoid a deterioration in the score of some of our Investible Attributes.
Analysis. The linked account's trading history will only be migrated for analysis purposes and will not be reflected on the Darwinex MT4 account's history.
Disconnecting from the external server. Once the migration has been completed, we will disconnect from your broker's server.
One trading history, one migration. Although you can migrate as many linked accounts as you wish, you can only migrate a linked account over to Darwinex once.
Therefore, if you decide to delete a migrated MT4 account, you will not be able to migrate it over again.