A short guide to Darwinex's account application.
The Markets in Financial Instruments Directive (MiFID) 2004/39/EC requires firms to verify the identity and residence of their customers.
During the application process, you'll be asked to fill in questionnaires and upload documents.
Only users who have passed the application process are able to open live trading accounts, live investor accounts and list DARWINs.
1. Before starting your application
Before starting your application, please be aware of the following points:
A Darwinex account is required in order to open trading and investing accounts.
It is associated with a public username that cannot be changed.
It can be held in only one currency (EUR, GBP or USD) that also cannot be changed.
Any trading (e.g. MT4, MT5, FIX) or DARWIN investing accounts you subsequently open will also then be in the same currency as your Darwinex account.
The minimum first deposit for individual / joint accounts is 500 EUR, GBP or USD and the minimum first deposit for corporate accounts is 10,000 EUR, GBP or USD.
Darwinex does not offer swap-free (Islamic) accounts.

Due to legal and regulatory requirements, residents of the following territories are not eligible to apply for a Darwinex account.
Afghanistan, American Samoa, Bahrain, Barbados, Belarus, Benin, Bolivia, Bosnia & Herzegovina, Burkina Faso, Burundi, Canada, Cambodia, Cape Verde, Central African Republic, Congo (Zaire), Cote D'ivoire (Ivory Coast), Crimea/Sevastopol
regions of Ukraine, Cuba, Democratic Republic of Congo, Egypt, Eritrea, Ethiopia, Grenada, Guam, Guinea, Guinea-Bissau, Haiti, Iran, Iraq, Japan, Kenya, Laos, Lebanon, Lesotho, Liberia, Libya, Macao, Macedonia, Mali, Maldives, Marshall Islands, Mongolia, Montenegro, Mozambique, Myanmar/Burma, Namibia, Nepal, Nicaragua, Niger, North Korea (Democratic People's Republic of Korea), Northern Mariana Islands, Pakistan, Palau, Palestine, Panama, Paraguay, Puerto Rico, Russian Federation, Saint Lucia, Samoa, Sao Tome And Principe, Serbia, Sierra Leone, Somalia, South Sudan, Sri Lanka, Sudan, Syria, Tajikistan, Tanzania, Trinidad and Tobago, Tunisia, Turkey, Uganda, US Virgin Islands, USA, Vanuatu, Venezuela, Yemen, Zambia, Zimbabwe.
2. How to initiate the application process
Once logged in, you can begin the verification process by visiting darwinex.com/mifid.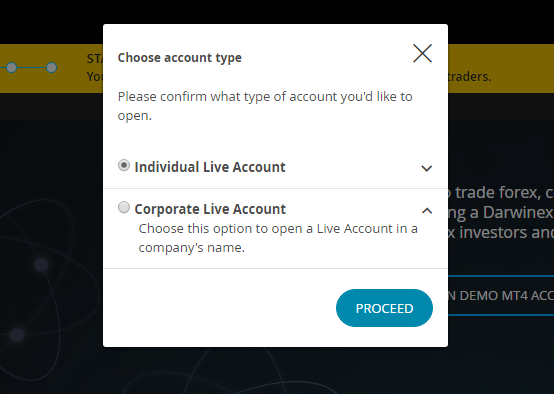 Please note that once an account is verified, it is not possible to change the owner of the account, nor is it possible to transform an individual account into a joint or a corporate account.
During the application process, you'll be asked to do the following:
Fill in a questionnaire asking for personal information.
Fill in a questionnaire about your financial solvency and knowledge.
Upload the documents specified in section 4 of this article.
After completing the above, you'll receive an email notification about your application's status within 1 business day.
3. How to open a joint account
Individuals opening a joint Darwinex account must also have a joint bank account for depositing and withdrawing monies.
To open a joint account, please choose "Individual account" when asked to select your account type.
When prompted, please introduce the name and address of both / all account holders in the Name, Surname and Address fields.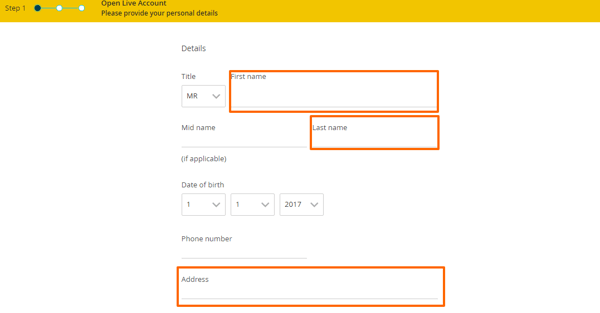 When asked to upload documents, please upload the documents of both /all account holders.
4. What documents are required for account verification?
In the final steps of the verification process, you'll be asked to upload the following documents through a secure system.
Individual / Joint Accounts
We need a valid copy of the Passport / ID / driving license of the account owner(s) (please make sure you also provide the reverse side in case of an ID and driving license).
A valid proof of residence (e.g. bank statement, utility bill, etc.) less than 3 months old so we can verify the current address of the account owner(s).
Spanish residents must also provide the CNMV declaration (downloadable from the user's own profile) duly signed.
British citizens must also provide a document to verify their UK National Insurance number.
Corporate accounts
Legal Entity Identifier (LEI)
Memorandum and Articles of Association
Copy of register of Shareholders
Copy of register of Directors
Proof of Registered address (original utility bill or bank statement displaying the Company's Name and Registered Address dated within the last 3 months)
Proof of Operating address (original utility bill or bank statement displaying the Company's Name and Registered Address dated within the last 3 months)
ID and Proof of Address for:
--- All active Directors
--- Shareholders/Beneficial Owners with a holding of 25% or more
Business certificates (if any)
Related content
Wondering whether it's worth applying for a Darwinex account? Here are the key points we think retail traders need to consider before deciding to trade with any broker.